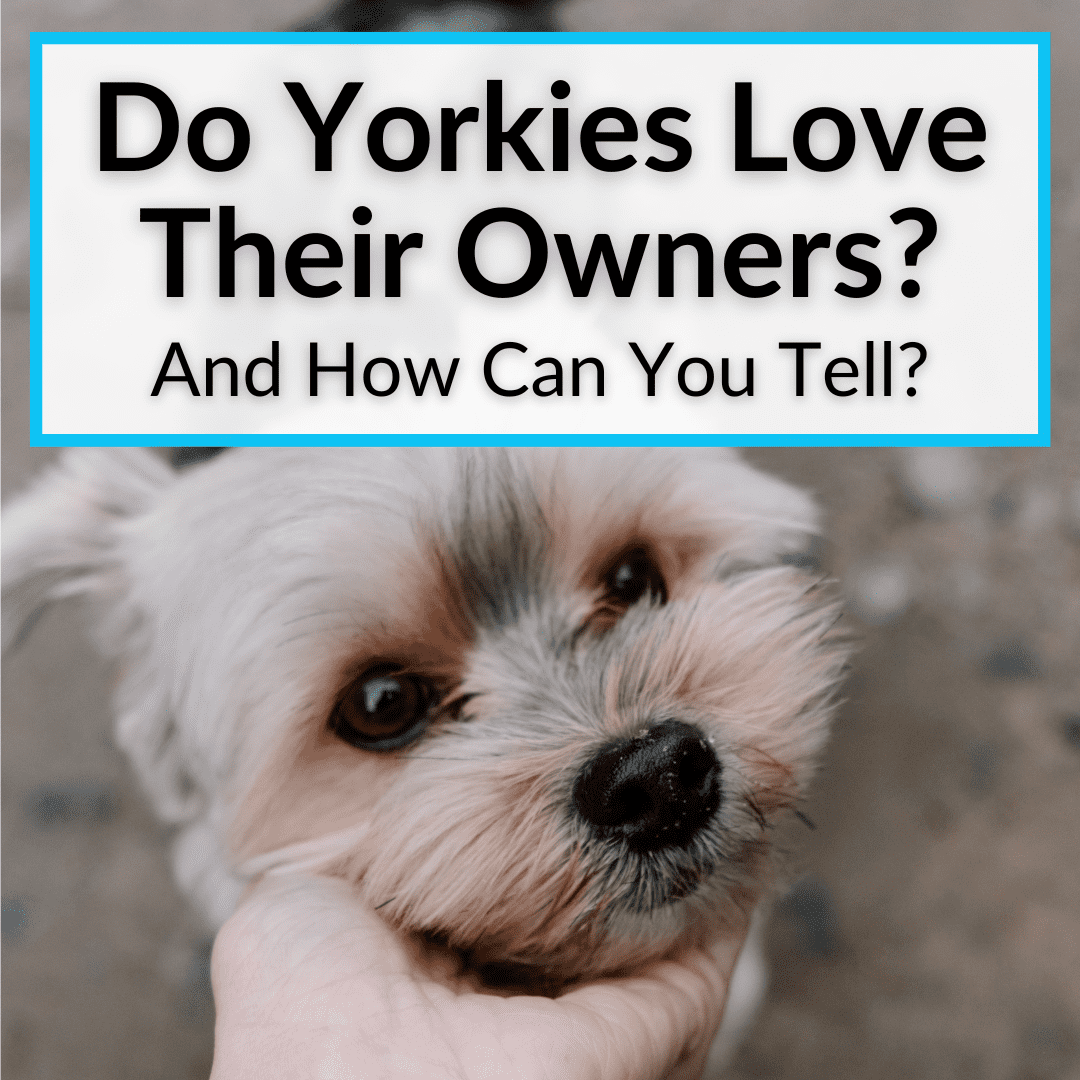 Every pet owner has asked themselves this question.
It is only natural to wonder if the pets we love, love us in return.
Of course, if you do not love your Yorkie, or worse, mistreat it, you can't expect it to love you back.
But if you show your pup plenty of love and affection, of course you hope that it returns those feelings.
So, do Yorkies love their owners?
I have some great news for you! Keep reading to learn everything you need to know, including how Yorkies show their love and affection and how you can deepen the bond between you and your pup.
Do Yorkies Love Their Owners?
Yorkies absolutely adore their owners. They are an affectionate breed of dog. They love receiving affection from their owners as much as they love giving it back.
They show their affection is a number of ways. They may lick your face, come close to cuddle, lean on you, bring you gifts and more.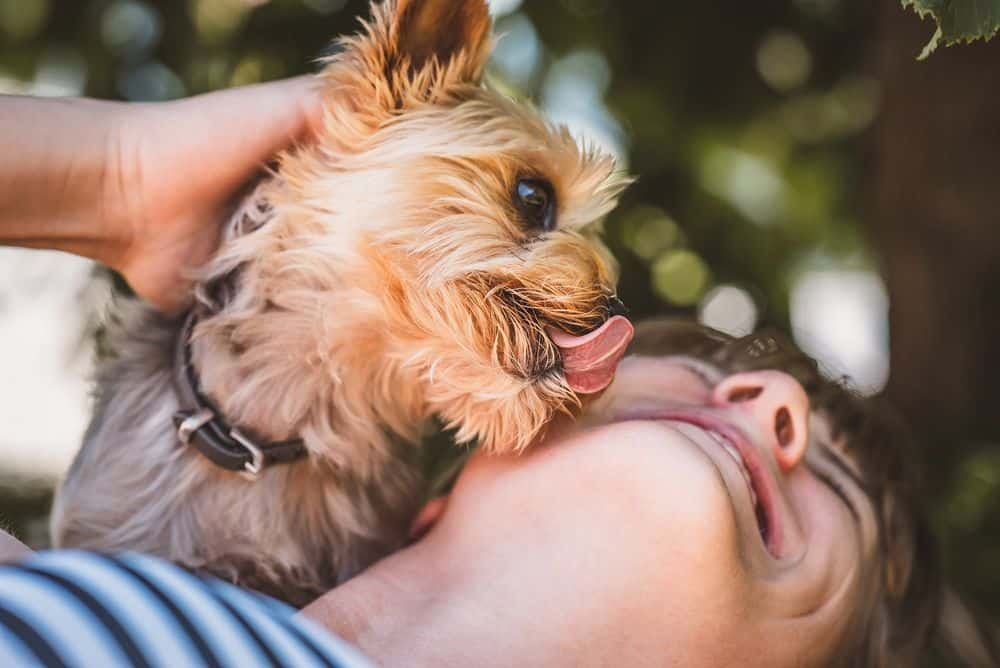 We're going to look at how Yorkies show affection, covering several common ways they do so. We'll also go over some ways you can build the bond between you and your dog.
Cuddling
You'll know if your Yorkie loves you, because it will always want to cuddle with you. It will constantly come up and trying to nuzzle you for some love and affection.
The more affection you get from it, and the more you return it, the more your pup's love for you will keep growing.
Whether your Yorkie is young or old, it will always be affectionate toward you. Usually you will even find that their love grows with age.
There are a few reasons for this. They get to know you better as a person and become used to you being their owner. Being older, they are also less curious than younger dogs. This means they'll want to spend more time with you, rather than exploring new places.
Licking And Kissing
Yorkie kisses on your face are a clear signal of love. It's natural to lick or kiss the face of the person they see as their primary caregiver.
Sometimes they express their affection by warmly nosing your hand or arm or leg, wanting you to socialize with them. Or perhaps they want attention or a walk, or they might be hungry.
Leaning And Snuggling
Touching is essential for any dog breed. When they lean on you, it's clear that they trust you and feel secure with your companionship.
When your Yorkie expresses its affection in this way, you should never push it away. That can have negative consequences on your pup's psyche.
Plus, this is just a great opportunity to spend some quality time together and intensify the friendship between you and your Yorkshire terrier.
Biting Your Belongings
This may not seem like an indication of love, but it is. Your scent is all over your belongings and that makes your Yorkie delighted, secure, and relaxed. Pulling and biting your belongings is a sign that your Yorkie is thinking of you.
Wagging Tail
Dogs wag their tail for several reasons. If you have a good bond, a full body and tail wagging means that your pup is delighted to see you. If a Yorkie wags its tail to the right side of its body, it's a sign it is happy and feeling comfortable.
Playing Around
Playing around is a common (and great) way to bond, for both humans and dogs. It is also a great way to burn off some calories.
And it is an indication of affection. When a dog plays with you, it is a clear sign that it loves you and wants to spend time with you. That said, light biting is often part of how dogs play. You will probably want to train your dog not to bite when it is playing with humans.
Bonding
Yorkies are a dog breed that always makes sure to create a special bond with their owner. As attention loving dogs, they are known to sometimes be quite clingy with their owners.
Most don't see this as a bad thing, especially if you live on your own. It can be quite nice to have a dog that dotes on you.
The Yorkie is also commonly referred to as a one-person dog. This is because they often show the most affection to one person. This is always the person they consider to be their main caregiver. It's their way of saying thank you for looking after them.
However, even though a Yorkie may only bond with one person, it doesn't mean they won't warm to anyone else in your family. They will have one main person in their life, but it won't stop them from also giving affection to everyone else.
How To Bond With Your Yorkie
There are many ways you can bond with your Yorkie. First, you can take it on regular walks. Your Yorkie will love to get out of the house and run around while getting some fresh air.
By taking your dog on regular walks, it will begin associating you with doing something good for it. It will love that you take it out to new places and you can even take a toy or ball to throw for it to encourage playing at the same time.
Another way to bond is by regularly grooming your Yorkie. If you bathe it every few weeks, it will love that you're keeping it clean and fresh. It's a great way for you both to get to know each other.
One of the best ways to bond with your Yorkie is to play with it. Yorkies love to play with their favorite toys and there's nothing they love more than playing with their favorite owner as well. Your Yorkie will link you with having fun and this will only help to increase your bond.
Companion Dogs
Back in the day, Yorkies were used to hunt down rodents or other pests. In our modern day and age, they are now bred to be companion dogs. This is why Yorkies are so small and cuddly.
A big reason they make such great companion dogs is the oxytocin hormone they release. When you are playing or showing each other affection, both of your brains release oxytocin, also known as the love hormone. This is what makes both of you feel loved and happy towards each other.
Do Yorkies Like To Sleep With Their Owners?
Yorkies do like to sleep with their owners. They love the affection and being close to them at all times. Whether you should allow your Yorkie to sleep with you is a personal choice.
It may help you to feel safer during the night and it can also help if you suffer from anxiety. However, it may be best to double check if your Yorkie is free from any nasty parasites.
You don't want to wake up with red and itchy legs in the morning, and you can get worms from your dog sleeping in your bed, too.
Are Yorkies Protective Of Their Owners?
Yorkies are well known for being protective and loyal dogs, especially when it comes to their owners. They may be small, but due to their loyalty, ferociousness, and the fact they're vocal dogs, they make excellent guard dogs.
If a Yorkie detects that there is an intruder or that its owner is in trouble, it will not stop barking until it believes its owner is out of danger.
This trait can make it difficult if you get a second dog. Are two yorkies better than one? In many cases, yes. But some Yorkies just don't do well when a second dog is introduced. Jealousy can rear its ugly head.
Why Do Yorkies Stare At You?
If you keep catching your Yorkie staring at you, don't be creeped out! It is common to wonder: why does my yorkie stare at me? But in truth, it's just one of its ways of showing you affection.
When you and your dog stare at each other lovingly, it results in the release of the love hormone, oxytocin, which helps you to bond and connect with your Yorkie.
You might find the staring uncomfortable at first. But your dog can't speak to tell you that it loves you. Staring is its form of love language, so take it as a compliment!
Do Dogs Understand When You Kiss Them?
Dogs don't understand that a human kiss is a form of affection. If you want to show your dog affection, then you could pet it while using your voice to sound affectionate notes.
If you do continue to repeat this then your Yorkie will soon learn to associate your soft tone and petting with affection. That said, it can work the same way with kisses.
If you kiss your dog a lot, it may soon realize that a kiss from you is a positive thing and will start learning to appreciate them.
Many dogs can respond differently to being kissed. For example, if you have a rescue dog, it may not like you coming that physically close to it.
It might make some dogs uncomfortable. Just as every human differs, the same is also true for dogs. No two dogs are the same.
Yorkies Love Their Owners: Conclusion
Yorkies definitely love their owners. In fact, they are famous for forming an attachment to a single person. They are loyal and fierce protectors and always there to comfort you in your time of need.
Given all that, you might wonder if there are Yorkshire terrier emotional support dogs. Well, there are. In fact, they are one of the more popular breeds when it comes to therapy dogs.