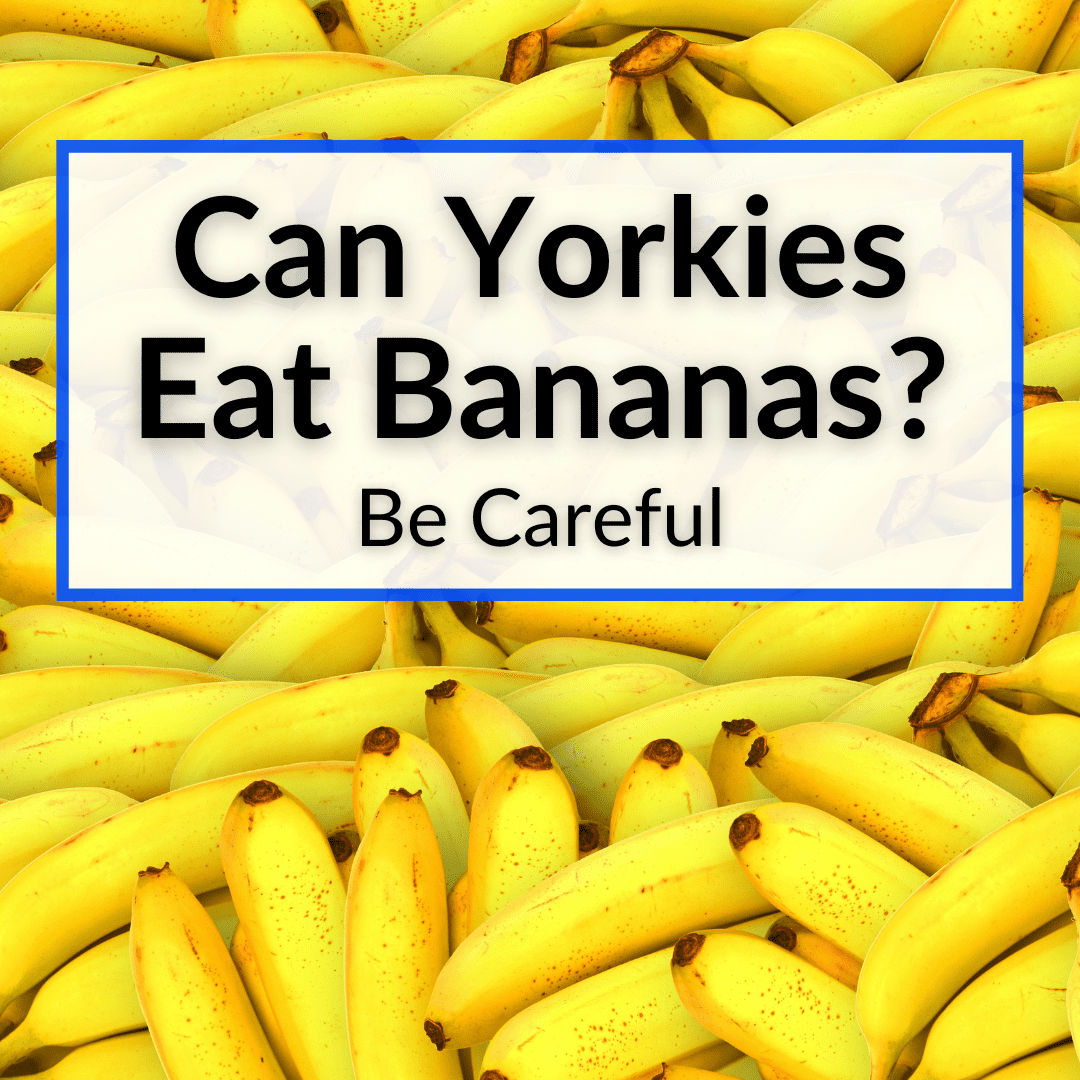 Everyone loves bananas.
That includes Yorkshire terriers.
But dogs (and humans alike) tend to like foods that aren't always that good for them.
Is that the case with bananas? Can Yorkies eat bananas or are they bad for their health?
As is the case with many fruits, it depends.
Small amounts are fine, while larger amounts can be bad.
Even if small amounts are fine, is it better to not give your Yorkie bananas?
Or are they actually good for dogs?
Keep reading to learn if bananas are beneficial to Yorkies, how much banana a Yorkie can have, and everything else you need to know about feeding your dog bananas.
Can Yorkies Eat Bananas?
Yes, Yorkies can eat bananas. They are a healthy and yummy low-calorie treat for dogs, in moderation. Most Yorkshire terriers love bananas and they provide several B vitamins, copper, and manganese.
However, bananas should not be the only food your Yorkie eats. Your dog needs a balanced meat-based diet to thrive. Bananas are also high in calories and sugar, which can be detrimental to your pet's health if consumed in excess.
In other words, bananas are good for dogs in small amounts, but can be bad in larger amounts. Let's take a closer look at the advantages and disadvantages of bananas for dogs.
Benefits Of Bananas For Yorkies
Bananas offer several health benefits to Yorkies. As mentioned before, this fruit is packed with biotin and B-vitamins like Vitamin B6. These can give your Yorkie a healthier and shinier coat. Bananas also contain manganese, copper, and magnesium.
According to a Harvard report, one serving of bananas provides 1 gram of protein, 0 g of fat, 28 g of carbohydrates, 3 g of fiber, and 450 mg of potassium. This fruit can be a good addition to your pup's diet, if you need to get your Yorkie to gain weight.
Drawbacks Of Bananas For Yorkies
There are a few drawbacks of bananas for Yorkies, especially if eaten in excess. For one, bananas contain a lot of sugar and carbohydrates.
An average-sized banana contains 14 g of sugar and around 105 calories. This high sugar content is not good for dogs. It can lead to dental issues and obesity.
Yorkies are small dogs. An adult Yorkie should not eat more than 150 to 175 calories per day. Puppies should not exceed 200 calories per day.
A single banana with over 100 calories will fill up your small dog. These tiny dogs are prone to weight gain and every Yorkie owner needs to watch their pet's daily calorie intake carefully.
Bananas also contain a lot of fiber. In excess, fiber could trigger diarrhea or loose stool in small dogs like Yorkies.
Also, bananas should not be the only thing that your Yorkie eats since it needs a balanced meat-based diet.
Bottom line: only feed your Yorkie bananas as a treat. And like all treats, bananas should be fed in moderation. Treats should not comprise more than 10% of your Yorkie's total calorie intake. This means a few pieces of banana, not the entire fruit.
Can Yorkie Puppies Eat Bananas?
It is okay for a young Yorkie puppy over the age of 2 months to have a few pieces of banana as a treat.
Your puppy will already be eating plenty of treats while training. Bananas, as mentioned before, are calorific and rich in sugar. Too many bananas can spoil your pet's teeth. Moreover, it will fill up your pet and unnecessarily increase its calories.
A Yorkie puppy needs to eat a healthy, balanced diet of high-quality puppy food containing DHA, EPA, calcium, protein, etc. Bananas won't provide your pet with all these nutrients.
If your Yorkie puppy is picky, you could mash a few pieces of bananas in its kibble or canned food to enhance its taste. You can also use small pieces of ripe banana as a training treat.
Never feed raw or green bananas, banana peels, or banana chips to puppies. These can make your pet sick. Only feed ripe bananas in moderation to your little Yorkie.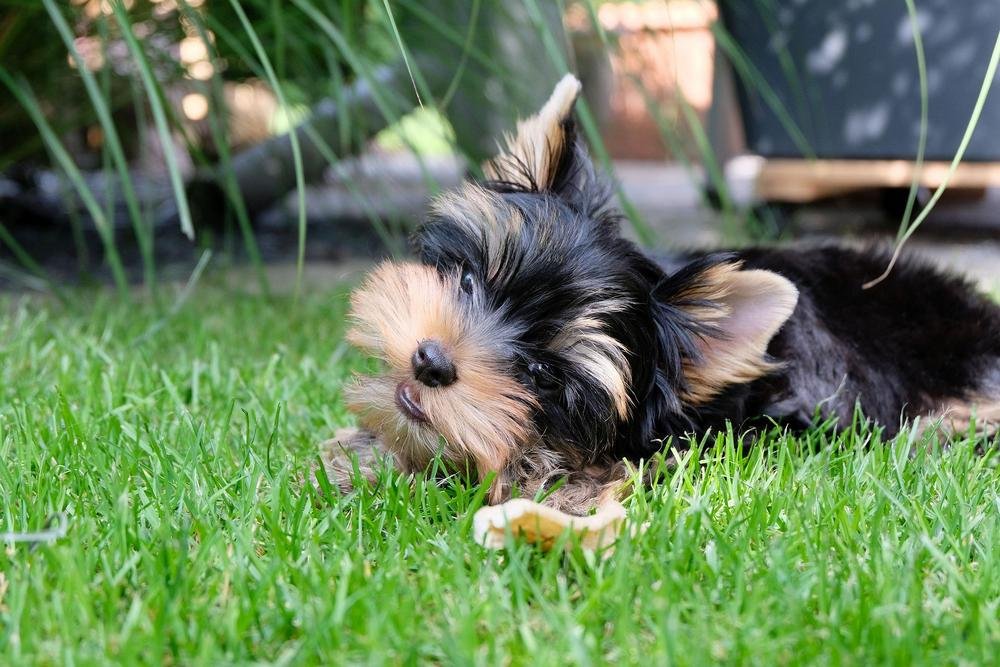 How Much Banana Can A Yorkie Have?
A single average-sized banana contains around 100 calories. Adult Yorkies should not consume more than 150 calories per day, while a Yorkie puppy should not eat more than 200 calories per day.
Remember that this breed is prone to weight gain. Even a slight increase in daily calorie intake can quickly increase your pet's weight.
Bananas are a sweet treat and should be treated as such. You must feed them in moderation only. Treats should not exceed 10% of your pet's total calorie intake.
This means that you may feed your adult Yorkie 3 to 4 bite-sized pieces of a banana per day. For puppies, it is best not to feed more than 2 to 3 bite-sized pieces of banana per day.
Do Bananas Cause Diarrhea In Yorkies?
In moderation, bananas won't cause any health issues in Yorkies. In fact, bananas are even known to regulate bowels and help with gastrointestinal issues in dogs.
A Yorkie suffering from diarrhea or vomiting is often recommended a bland diet of rice, chicken broth, and a few pieces of banana to regulate its gastrointestinal tract.
However, bananas contain a lot of fiber. Fiber, in moderation, can help eliminate intestinal blockages and stimulate bowel movements in constipated Yorkies. However, in excess, fiber could result in loose stool or diarrhea. Again, always feed bananas in moderation.
What Fruits Can A Yorkie Not Eat?
Many fruits are toxic to dogs. These fruits could lead to symptoms like diarrhea and vomiting in pets. You could accidentally feed these fruits as treats to your Yorkie. That is why it is important to know which fruits are toxic and ones you should never feed a Yorkie.
Grapes
Even a single grape or raisin could cause kidney damage in small dogs like Yorkies. If you suspect your Yorkie puppy has ingested a grape or raisin, please speak to your vet right away.
Fruits With Pits, Stones, Or Seeds
Almost all stone fruits, like cherries, plums, peaches, and even apples, contain traces of cyanide in their seeds. While apple pieces are safe for your Yorkie in moderation, you should never feed the seeds to your dog. These can make it very sick.
Avocados
Avocados contain persin, a toxin known to cause fatal breathing issues in dogs. It may be best to avoid giving any part of avocados to your little pet. They are on our list of foods Yorkies should not eat.
Tomatoes
Red tomatoes are generally safe for Yorkies, albeit in moderation. However, unripe tomatoes are dangerous because of their tomatine content, which is known to harm your dog's kidneys and nervous system.
What Fruits Can Yorkies Eat?
Your Yorkie can safely eat a number fruits, but again, in moderation. Although these fruits are safe and non-toxic, they are still rich in sugar. Too much sugar is detrimental to your pup's health. Here is a list of some of the safe fruits for Yorkies.
Apples, peaches, pears (without seeds)
Bananas
Berries like strawberries, blueberries, cranberries, and raspberries.
Cucumbers
Cantaloupe
Yorkies Can Eat Bananas: Conclusion
If your Yorkie enjoys bananas, go ahead and let it have some. But don't give your dog too much. Limit it to 3 to 4 bite-sized pieces of banana per day at the most, in order to prevent your pup from suffering any digestive issues.
And if you dog does not like bananas, don't worry. While bananas are healthy for dogs in small amounts, they are not part of a dog's required diet. Dogs do not need bananas at all in order to be healthy.