Yorkies are tiny dogs.
It does not take much for them to suddenly be overweight or underweight.
We all know what to do with an overweight dog: diet and exercise.
But what about an underweight dog?
How do you help your Yorkie gain weight, if it is too thin?
First, you need to determine why it is too thin.
If there is a health problem at play, you need to get that taken care of.
If you dog is healthy, but simply underweight, you can easily help it put on some pounds.
Keep reading to learn how to get a Yorkie to gain weight the right way. You want it to be heavier and healthy, not heavier and fat.
How To Make My Yorkie Gain Weight
You help your Yorkie gain weight the same way you would help yourself put on weight: eat more calories. Of course, you want to make sure they are the right calories.
With a Yorkshire terrier, that means food high in protein and fat. You want to make sure your pup gets more of that. This may mean changing the food you already feed it, or changing the amounts you feed and the feeding schedule.
You also want to supplement all of this wit additional exercise, to ensure your dog puts on muscle weight and does not just get fat. Let's take a closer look at your options for getting your Yorkshire terrier to put on weight.
Higher Protein Or Higher Fat Food
If you want your Yorkie to gain a little extra weight, the best way to tackle this is through its food. It could be the case that your Yorkie isn't eating enough protein or fat. Both of these nutrients play an important part in your Yorkie maintaining a healthy weight.
You always want to introduce new food to your dog gradually, otherwise it may turn its nose up at any new foods, especially if your pup is a fussy eater! Start by adding just 10% of the new high protein or high fat food to its original food.
Then add a little more every day. It may take a couple of weeks to fully change over the food, and then a couple more weeks to notice any weight gain. But eventually, you will notice the difference.
If you're not sure what type of food you could feed your Yorkie to help it gain weight, you could purchase a special high calorie food that has been designed for athlete dogs. This would help your pup put on more weight.
You could also go with wet or fresh foods. If your Yorkie is losing weight because it has stopped eating, it could be because it is not enjoying what you're feeding it. This is sometimes the case with dry food.
Wet food is usually more appealing to dogs, because it has a stronger scent. This can persuade your pup to eat up all of its food.
There are also a lot of foods you can feed a Yorkshire terrier besides dog food. A combination of boneless meat, some rice, some (onion-free) gravy and a vegetable is always a great option. Just make sure everything is unprocessed.
New Feeding Schedule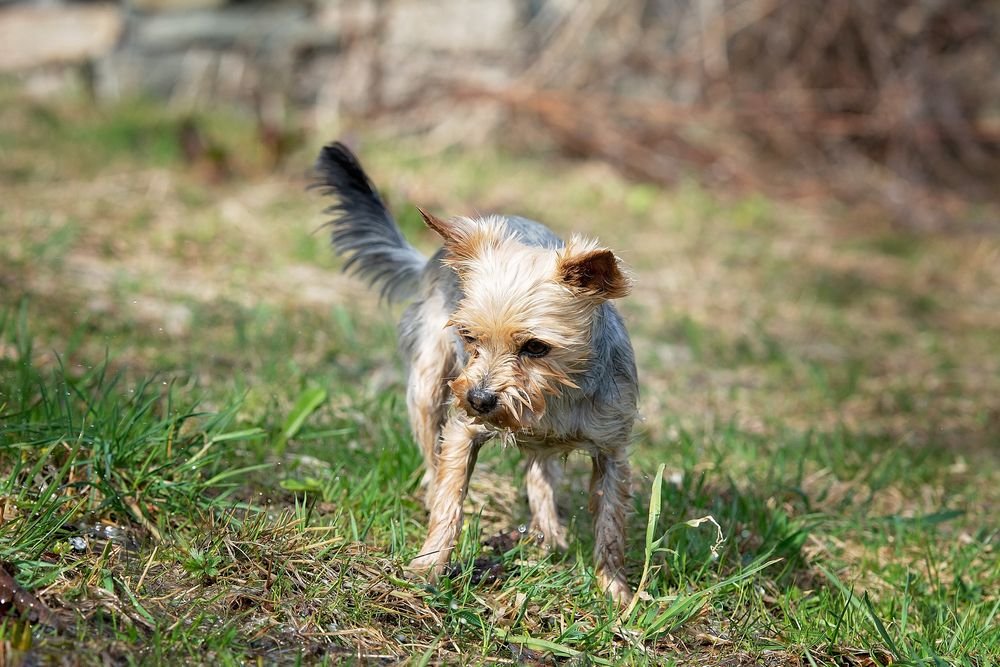 It could also help to switch up your Yorkie's feeding schedule. For example, you could feed your dog a large meal later at night, closer to when it is due to go to sleep.
A Yorkie's metabolism slows down while it is asleep, so it is more likely to keep hold of any fat from the food, if you feed it closer to bedtime. Just make sure you are leaving it enough time to go out and poop, if it needs to do so after a meal.
If you're out of the house during the day, you could look at feeding a smaller amount in the morning, and then a much more substantial meal later on in the evening.
Of course, Yorkes have small stomachs, so no meal can ever be too large. You could do one larger one in the early evening and a second larger one closer to bedtime.
If you're in the house during the day and are able to feed your dog throughout the day, then it is better to feed smaller meals multiple time during the course of the day. This is always best with small dogs.
In this case, you could promote weight gain by simply feeding slightly more for each meal. This way, your Yorkie will eat more calories throughout the day.
Another option is to leave a bowl of food out all the time, so that your Yorkie can visit it throughout the day and eat whenever it feels like it. This should help to increase its weight gain.
However, I would recommend only doing this with dry food. Wet food can spoil, if your dog does not eat it fast enough. Plus, it stinks up the house more. And if it does end up going bad, your poor Yorkie really won't feel like eating anything!
Exercise
Exercise isn't just for losing weight. It can also help to gain weight. Regularly taking your dog for a walk not only helps maintain a healthy weight, but also encourages muscle growth.
If your Yorkie's muscles are growing, that means it is also gaining weight. Just make sure that you are feeding it a high protein diet to help feed and nurture those growing muscles.
What Can I Feed My Yorkie To Gain Weight: Common Questions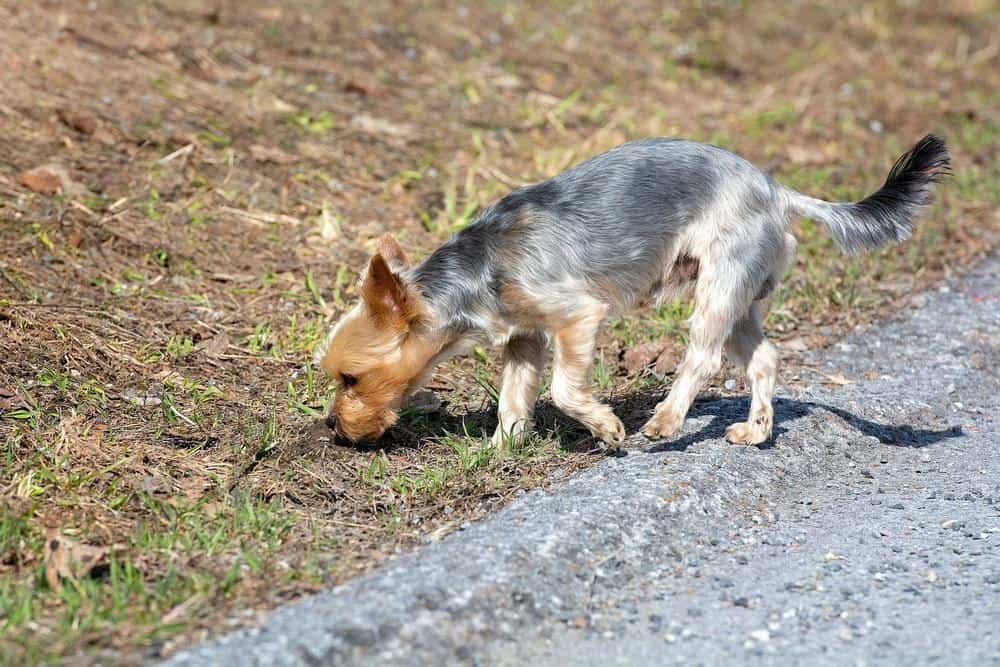 The following are answers to some common related questions. If you have any additional questions or concerns, please feel free to ask them in the comments below.
Why Is My Yorkie So Skinny?
Because Yorkies are so small, it isn't always easy to tell if they're too skinny. A Yorkie is considered too skinny if it is under four pounds. If you suspect your pup is underweight, you may want weigh it on a scales.
If your Yorkie is too skinny, it could be down to a variety of reasons. For example, it may not like its food, it may be stressed, or there may be an underlying health condition.
All of these reasons are something you can fix. However, if you think it is because of a health condition, it would be best to make an appointment to see your Yorkie's vet.
What Food Helps Dogs Gain Weight?
You're going to want to choose a food that is not only high in protein but also high in calories. With regular use of foods that are rich in these elements, you should see your dog begin to gain weight in as little as a couple of weeks.
Do Eggs Help Dogs Gain Weight?
Eggs certainly do help dogs gain weight! They're full of healthy fats and proteins and provide your dog with amino acids. Eggs are also incredibly nutritious and easy to digest. Overall, eggs make a great snack for your Yorkie, particularly if you're trying to get it to gain weight.
Can You Feel A Yorkie's Spine?
It is normal to be able to feel your Yorkie's spine. However, it isn't normal if you can feel the spine protruding.
If you can't feel your dog's spine because there is too much fat, this most likely means your dog is overweight. If you can feel the spine sticking out of your Yorkie, it most likely means your dog is underweight.
If you are concerned about your dog's weight, you can also check around the waist area. If the waist contours slightly inward, your dog is at a healthy weight.
If there is no contour then your dog may be overweight, and if you feel like the curve of your dog's waist is going too far in, then your Yorkie may be underweight.
There are plenty of BMI tables you can pull up online to check that your Yorkshire terrier is at a healthy weight. If you have any concerns about your dog's weight and are unsure if you need to make a plan for it to put on weight, you can always consult with your vet. That is never a bad idea.
How To Help My Yorkie Gain Weight: Conclusion
You want to make sure you feed your Yorkie the exact nutrients its body needs to maintain a healthy weight. Our Yorkie weight chart can help with that.
To add more weight, feed your dog more calories in the form of protein and fats. You can get dog food that contains more of these elements, or feed more of the food you already have (dog food should contain a lot of protein and fat anyway).
You could also supplement things like pumpkin and sweet potatoes. And make sure your dog gets plenty of exercise. If your dog in underweight and nothing you do helps, you should take it to see a vet. There may be an underlying health condition.