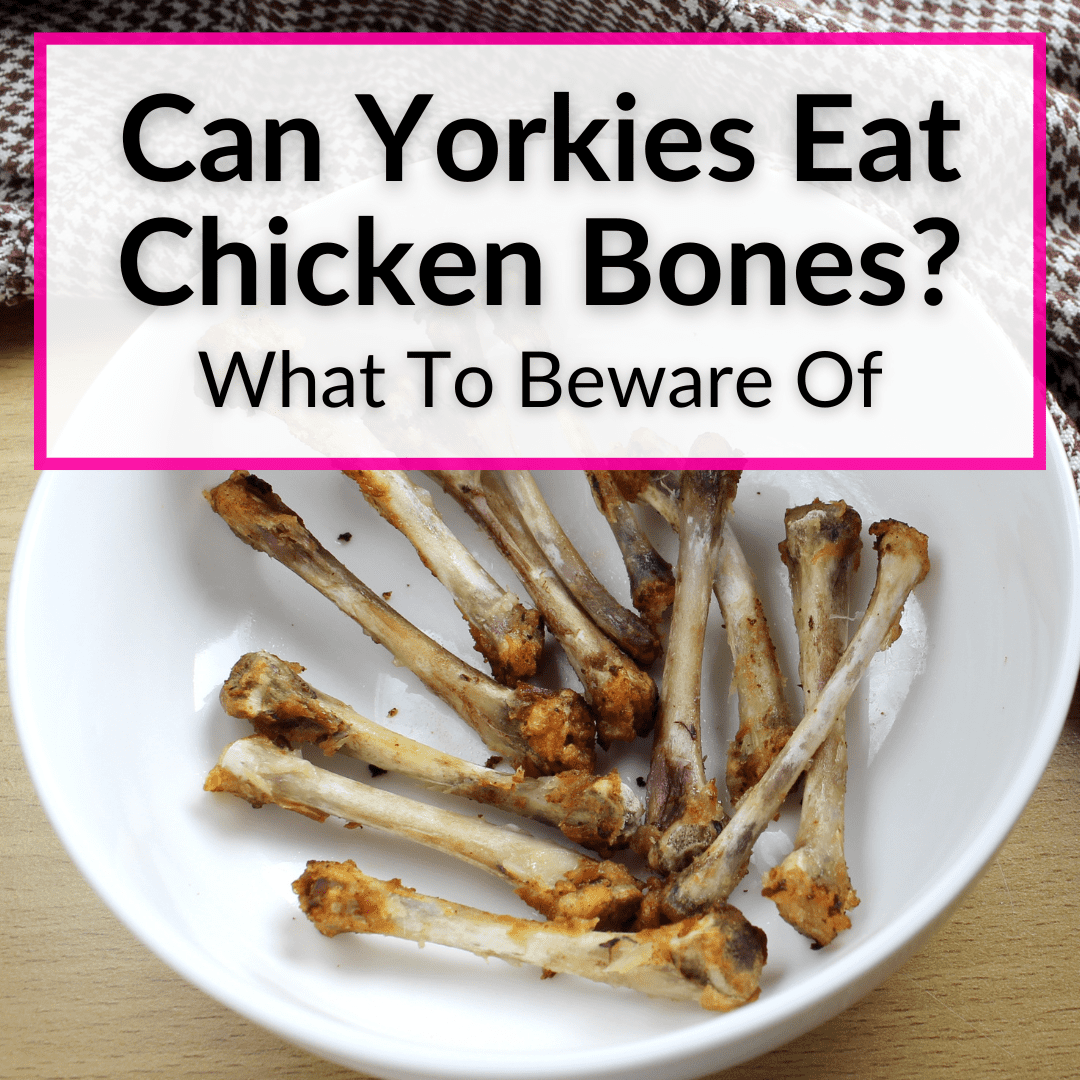 You've probably gotten mixed messages.
I've seen columns telling me that it is perfectly fine to give your Yorkie a chicken bone to gnaw on.
Then I've seen others that make it sound like a chicken bone leads to instant death.
So which is true? Can Yorkies eat chicken bones or not?
As usual, the truth lies somewhere in between.
But in this case, it does not lie in the middle.
Keep reading to learn whether chicken bones are fine for Yorkshire terriers and what you should do if your pup has gotten ahold of a bone when you weren't looking.
Can Yorkies Eat Chicken Bones?
Yorkies should not eat chicken bones. They can be dangerous for any dogs, especially small ones like Yorkshire terriers, due to the small size of the bones.
Chicken bones are also light bones, which makes them easy to break in your Yorkie's throat. A broken bone can be sharp and can cut your pup from the inside. A bone fragment could also get lodged in the dog's trachea.
If you want to give your Yorkie a bone to chew on, don't give it chicken bones. Instead, go with any of these good chew bone options for Yorkies.
But what if your pup finds a chicken bone on its own and starts to eat it. What should you do then? Let's find out.
What To Do If Your Yorkie Eats Chicken Bones
Hopefully, you are able to catch your Yorkie in time, before it suffers any serious damage. If you catch your Yorkie while chewing on a bone, you can simply remove the bone from your dog's mouth.
You should also check inside your dog's mouth to make sure there are no little splinters hiding in its gums or teeth. These could scratch the gums, which can be painful, or cut the inside of the throat when swallowed.
Do not shout at your Yorkie or otherwise get angry with it. This could panic your dog and cause it to accidentally swallow a chicken bone. That could lead to it choking on the bone.
If you are not able to catch your Yorkie in time and it does end up swallowing chicken bones, you should wait and see if your dog starts showing any signs of distress.
One particular sign you will want to look out for is if your Yorkie starts coughing up, or vomiting, blood.
You may also want to check if there is any blood in your Yorkie's stool and whether it is having any trouble with its bowel movements.
You should also pay attention to the sound of your dog's breathing, If it sounds irregular, chances are there is a chicken bone lodged in your Yorkie's throat. That could necessitate a visit to the vet.
When To Go To The Vet
You do not need to go to the vet if your Yorkie has swallowed chicken bones, unless one of the following three things happens: your Yorkie is choking, your Yorkie is extremely bloated or constipated, or there is blood in your Yorkie's stool, saliva or vomit.
If your Yorkie is choking, it is going to need emergency help from the vet. Your Yorkie's airways will need to be cleared.
But this is not only the case if your Yorkie starts choking immediately after swallowing the bones, If you notice your Yorkie struggling to breathe over the coming days, you should also take it to the vet. There may be a small chicken bone lodged in its throat.
You will also need to go to the vet if your Yorkie is extremely bloated or constipated. This indicates that it has not passed the chicken bones.
A bone could have caused a blockage in your Yorkie's digestive system. If left untreated, this could potentially become fatal.
The last reason you should visit your vet if your Yorkie has swallowed a bone is if there is blood in your dog's vomit, stool or saliva.
If your pup has swallowed a splintered bone, the bone fragment could be causing the throat or intestines to bleed. If this is left untreated, it could cause serious problems further along and may even require surgery.
Is Chicken Safe For Yorkies?
Just because chicken bones aren't safe for Yorkies, that doesn't mean the actual chicken meat isn't safe either. In fact, poultry is a great source of protein for your Yorkie.
The meat is lean and healthy. You can feed it to your dog as an afternoon snack or incorporate it into your Yorkie's main meals.
If you prepare your own dog food with chicken, always make sure that the chicken is cooked through, to avoid giving your Yorkie salmonella poisoning.
The last thing you want is your Yorkie coming down with a spell of food poisoning. Salmonella poisoning can become quite serious. At times, it can even be fatal.
Yorkies Eating Chicken Bones: Final Thoughts
Yorkies should not eat chicken bones. They are too small and too brittle. The chances of the bones breaking and fragment becoming lodged in the throat or causing injury to the throat, the stomach or the digestive system is too great.
If your Yorkshire terrier does get a hold of a bone, take it away. If it has already swallowed bone parts, keep a close eye on your dog for any signs of distress. If you notice any of the issues mentioned above, contact your vet immediately.