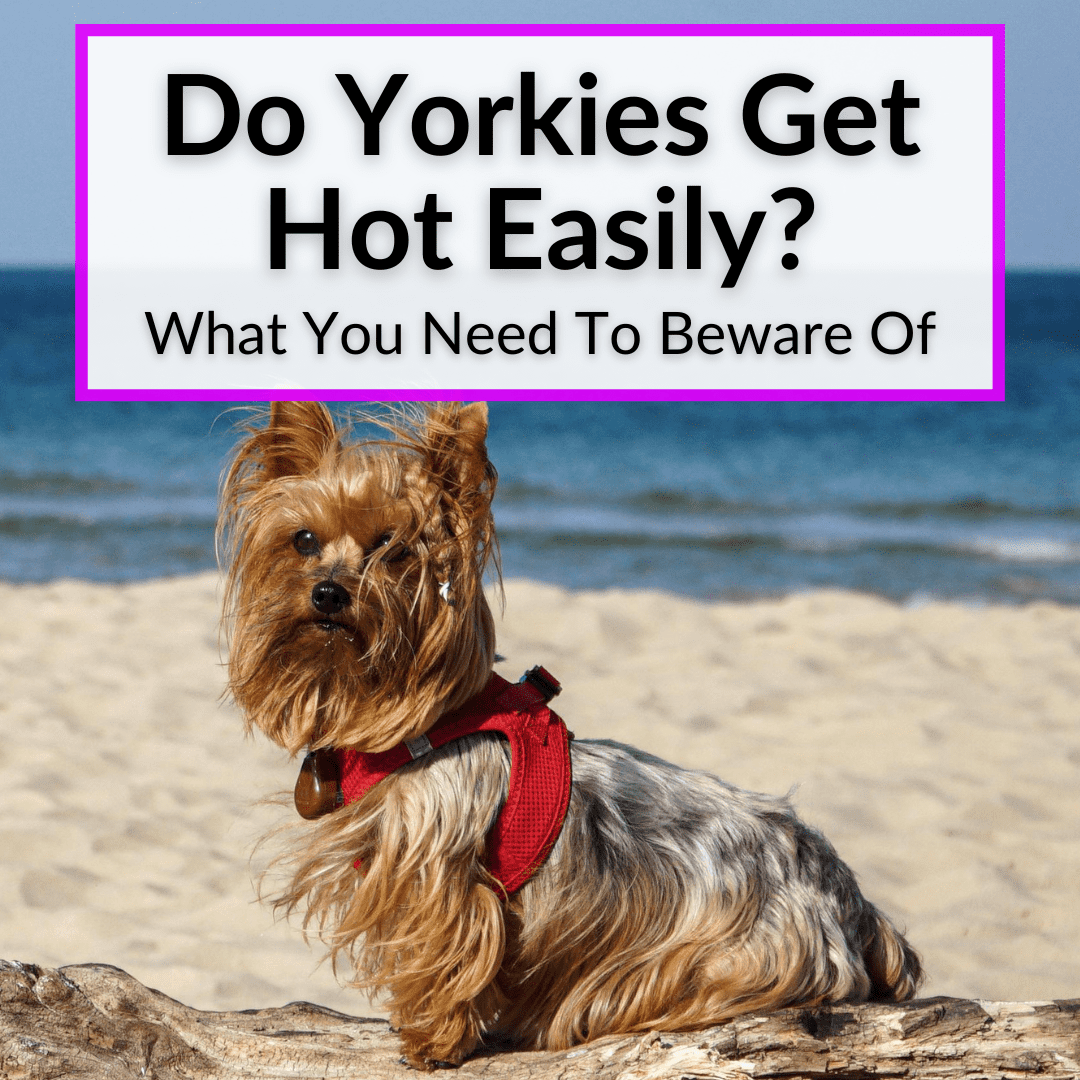 Do you love summer?
Most of us do.
But even those of us who don't have a much easier time surviving the hot months than many of our furry friends.
Does that include our little Yorkshire terriers?
Do Yorkies get hot easily, or do the summer months present no problem whatsoever to these cute little pups?
The truth is: hot weather can be quite dangerous for a Yorkie, for a number of reasons.
Keep reading to learn how easily Yorkies get hot, what other dangers hot weather presents, and what you need to do to protect your Yorkie from the heat.
Do Yorkies Get Hot Easily?
Yorkies can easily get hot and even become overheated. They are tiny dogs, which makes them more prone to overheating and exhaustion. Yorkies can get hot from dehydration or from being out in the sun for too long.
Unlike humans, Yorkies don't have sweat glands. This means heat cannot escape from their pores. The only parts of the body from which heat can exit are the nose, tongue, and paw pads.
Have you ever wondered: why do Yorkies stick their tongues out? Eliminating heat is one of the main reasons for that.
And because heat has limited avenues of escape, Yorkies are more prone to heat exhaustion and heat stroke.
A Yorkie's normal body temperature is between 100.4° and 102.2° F (38° and 39° C). If your Yorkie's temperature starts to hit the 104° F (40°) mark, it can lead to those heat-related conditions and put your dog under a large amount of stress.
If you ever become concerned about your Yorkie's body temperature, grab a thermometer to double check its temperature. If it is too high, you need to begin the process of cooling it down.
There are number of risks to Yorkies when the weather gets hot. Let's take a closer look at the major ones.
Burns
Not only can Yorkies overheat in hot weather conditions, but they can also burn. And we all know how badly a sunburn can hurt! But with dogs, it's not just the sun that burns them. It's the pavement that burns their paws.
If you take your Yorkie for a walk and the tarmac is too hot, it can burn their feet. This can lead to nasty, painful blisters and red, peeling paws.
To prevent your Yorkies paws from burning, you can apply a special wax protector onto your dog's paws, to act as a barrier against hot pavement. You can find these protectors at a local pet store or online.
While hot pavement burning their paws is the top burn risk, a Yorkie's skin is also at risk from sunburn. This is because they don't have a regular fur coat like other breeds of dogs.
Instead, Yorkie hair is thinner than regular fur and more like human hair. They also have no undercoat. The thinness and lack of an undercoat means their skin has less protection from the sun.
If your Yorkie becomes sunburnt it can cause a variety of different skin conditions. Sunburn can cause itchiness, dryness, or lead to the hair becoming coarse. In extreme conditions, persistent sun damage and sunburn can lead to cancer.
Heatstroke
Heatstroke is another common danger to Yorkies. You may be wondering how you will know if your Yorkie has heatstroke. There are a number of symptoms to look out for.
These symptoms include panting, drooling, whining, fidgeting, red gums, vomiting, and a decrease in urination. You should pay particular attention to these symptoms, if your Yorkie starts showing them in hot weather conditions.
Heatstroke can become deadly very quickly, sometimes even within hours. If you suspect your Yorkie may be suffering from heatstroke, you need to seek out medical care immediately.
You can prevent heatstroke by ensuring your dog stays hydrated. Make sure to keep its water bowl topped up with fresh water at all times, especially when it is hot out.
You should also keep your pup out of direct sunlight. Try to walk it during cooler times of the day, like early in the morning or during the evening.
A sure sign that your Yorkie could be on its way to heatstroke is if it is dehydrated. A noticeable sign of dehydration is if the mouth and gums become dry.
You can also check the skin on the back of the neck. Pull at the skin so that it stretches. If the skin goes back to its place slowly, instead of springing back, then your Yorkie is dehydrated.
Preventing Dehydration And Heatstroke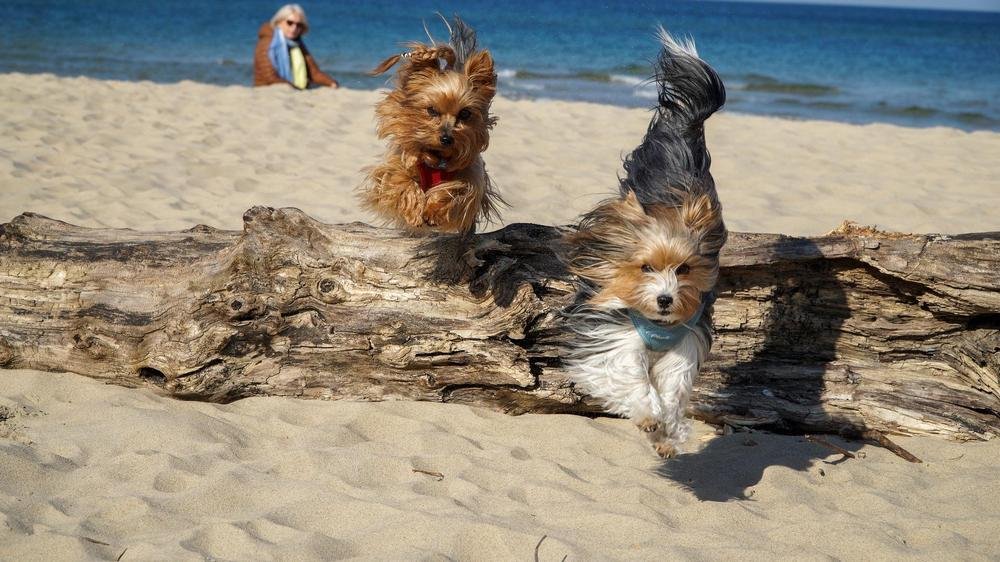 If this does happen then you need to take your pup to a vet immediately, so that it can be hooked up to a drip, before the situation worsens and becomes heatstroke. If you think that your Yorkie is dehydrated, stop any activities straight away, like exercise or playing, and call a vet.
If your Yorkie is mildly dehydrated, there are certain steps you can take to try and get it back on track. You'll want to make sure that it is drinking its water, but do not let it drink too much in one go. Its water intake needs to be gradual.
You can also apply a cool, wet cloth to its paws, groin, and armpit areas. Just make sure you're cooling your dog down slowly. Anything too quick can send it into shock.
To cool down a hot Yorkie, you can also give it ice cube toys, buy a special cooling mat, or even buy a cooling vest. You wet the vest, wring it out, and then place it on your pet. Electric fans are also a great choice. And not just for your Yorkie, but also for cooling you down!
Should Yorkies Be Shaved In The Summer?
Many owners consider it a good idea to shave your Yorkie during the summer months. With the soaring temperatures, a shorter coat does help them stay cooler. It also prevents any tangles or matting and means the coat is much easier to keep on top of.
However, it's not quite so simply. The longer coat actually helps protect your Yorkie fromt he sun. In general, we do not recommend shaving your Yorkie, even during the hot summer months, although keeping the hair short is not a bad idea. We have an article on whether you should shave your Yorkie here.
What Temperature Is Too Hot For A Yorkie?
As mentioned above, a healthy temperature for your Yorkie lies between 100.4° and 102.2° F (38° and 39° C). Dogs start to become stressed once the temperature hits 104° F (40°).
If you notice your Yorkie starts becoming increasingly hot and bothered, it could be a sign that its increased body temperature is bordering on heatstroke.
If you believe this has started happening, seek shelter from the sun right away. At the very least, take your Yorkie out of the sun. Even better, get it into an air-conditioned building.
You'll want to cool it down with wet towels (don't use ice, because it is too cold) and use electric fans to circulate the cooler air toward your dog.
Once you have cooled your Yorkie down to a comfortable temperature, it would be a good idea to make an appointment with a vet for a quick check up. You want to make sure that heatstroke has not caused any damage or long-term health issue.
Yorkies Get Hot Easily: Conclusion
We all love summer, but your Yorkie might not love it quite as much. Too much heat can cause problems to your Yorkie. Of course, too much cold is just as dangerous. With tiny, delicate dogs like Yorkshire terriers, you have to take steps to protect them from both.
When the weather gets hot, make sure you keep an eye on your pup to detect signs of dehydration early. If you can prevent dehydration and overheating before they start, or catch them when they are just starting, you can protect your pup from heatstroke.
Of course, you also want to protect it from burnt paws and sunburns. If you say on top of these potential problems, there is no reason your Yorkie can't enjoy the summer months just as much as you do!
Always remember that if you are unsure if whatever is happening to your dog, always consult it with your vet, so they will still enjoy the weather even if it's hot.