Yorkies love to go outside.
And sometimes, they can't help themselves.
They bend down and start munching on some grass.
If you see this for the first time, you might think there is something wrong with your dog.
But I assure you, your Yorkie mimicking a cow is not all that unusual.
It is not generally something you need to worry about.
But it can also indicate a more serious issue.
Keep reading to learn why Yorkies eat grass and when you need to worry about the habit. We'll also give you some tips on putting a stop to the grass eating habit, if it becomes a problem.
Why Does My Yorkie Eat Grass?
Yorkies might eat grass for a couple of reasons. They eat grass when they have an upset stomach, or just when they are bored. They may even just like the taste.
Eating grass is a common behavior in dogs. As such, it is not usually something to worry about. But it can also indicate a more serious problem.
A dog knows that eating grass can make it vomit, so it could be eating it to try to empty its stomach of something that is upsetting it.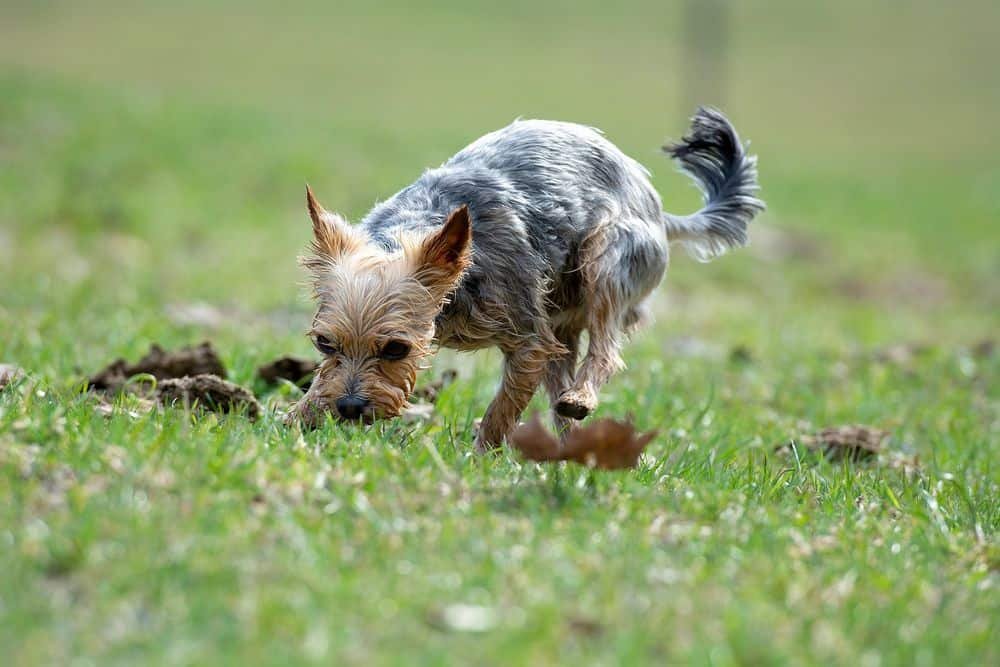 We'll cover the main reasons Yorkies eat grass next and also help you figure out if your dog eating grass is harmless, or if it is at a level that you need to worry about.
Stress
One reason your Yorkie eats grass might be that it is feeling stressed, or even upset about something. Eating grass can be a way for your Yorkie to grab your attention, because it knows you will scold it or ask it to stop.
Even if it is not positive attention, it is still attention. Your Yorkie just wants you to acknowledge it. It is common for these pups to seek attention when they are stressed or upset. Or simply when they are bored. Read our article on how to know if your Yorkie is happy for help with reading their emotions.
They Like The Taste
Of course, it could also be something as simple as your Yorkie just really liking the taste of grass. Sometimes, during particular periods of the year, grass can be much tastier than others.
For example, the grass is surely much more appealing after a heavy rainfall than during drier months. During these times, your Yorkie may just enjoy the taste and texture of the grass.
Upset Stomach
Does your Yorkie have an upset stomach? Sometimes they may eat grass because they know it will make them throw up. They eat grass as a way to empty their stomach of its contents, hoping that this may alleviate whatever is upsetting it.
Diet
Your Yorkie not having enough fiber in its diet can also cause it to eat grass. Grass helps with digestive issues, due to its high fiber content.
Obviously, this issue is easy to resolve. You just need to head to the store (or log in to the online store) and buy a food option that has a higher amount of fiber in it. High-fiber dog food should stop your Yorkie from eating grass altogether, if this was the issue.
What Can Grass Do To My Yorkie?
As we already know grass can cause your Yorkie to vomit. On average, 25% of dogs that eat grass go on to vomit soon after.
Because Yorkies are so small, this can actually be quite dangerous for them, especially if it happens on a regular basis. It can lead to a loss of appetite and even damage their stomach.
Tooth decay may also become an issue. Grass contains silica which is known to wear down tooth enamel. This, along with the acid from vomit, can wreak havoc on their teeth and become a very concerning factor for their dental hygiene. And Yorkies tend to have bad teeth as it is.
It may also interfere with their appetite. If your Yorkie doesn't vomit from eating grass, then chances are it has managed to become full and won't want its regular dog food anymore. As a result, it will miss out on all the nutrients it receives from its dog food.
What To Do If Your Yorkie Eats Grass
You're probably asking yourself what you can do to help. If it is not a regular occurrence, then the first thing to do is not to panic.
If it's just every now and then, grass consumption isn't too concerning. You may just want to check that your pup isn't picking up parasites from the grass, because they can cause your Yorkie to become sick.
Also, make sure it is not eating grass from areas that have been chemically treated with things such as pesticides. If your Yorkie consumes these, it can be dangerous and upset its stomach even more than it already might be.
If you think the habit may be something to worry about, you might want to try changing your dog's diet or making sure your pup isn't stressed about anything. If nothing seems to be working, it may be time to book a visit with your vet.
If your dog is just eating grass because it is bored, you may want to give it something to distract it from its boredom. You could play with it and give it some physical exercise, like a game of fetch or a nice long walk.
Mental stimulation can also help. You could buy a puzzle toy, like a puzzle feeder, for your dog to play with. Puzzle feeders work like this. You insert treats into the toy and then your dog has to figure out how to get the treat out of the feeder.
This is sure to keep your pup busy for a lengthy amount of time. I mean, who doesn't want treats? It will help keep its minds off of grass eating and stimulate its brain cells as a bonus.
Does Eating Grass Give Dogs Diarrhea?
Grass isn't known to cause diarrhea in dogs. But if you notice grass in your dog's poop, it could be eating it because it has an upset stomach. It is eating the grass to try and alleviate any symptoms.
Grass contains a lot of fiber, which can help with stomach issues. Dogs can suffer from digestive issues such as IBS, gastric reflux, and pancreatitis.
If your dog is eating grass and has other symptoms like diarrhea, constipation, or low energy, you may want to take it to the vet, in case it is suffering from an underlying health condition.
Should I Let My Dog Eat Grass?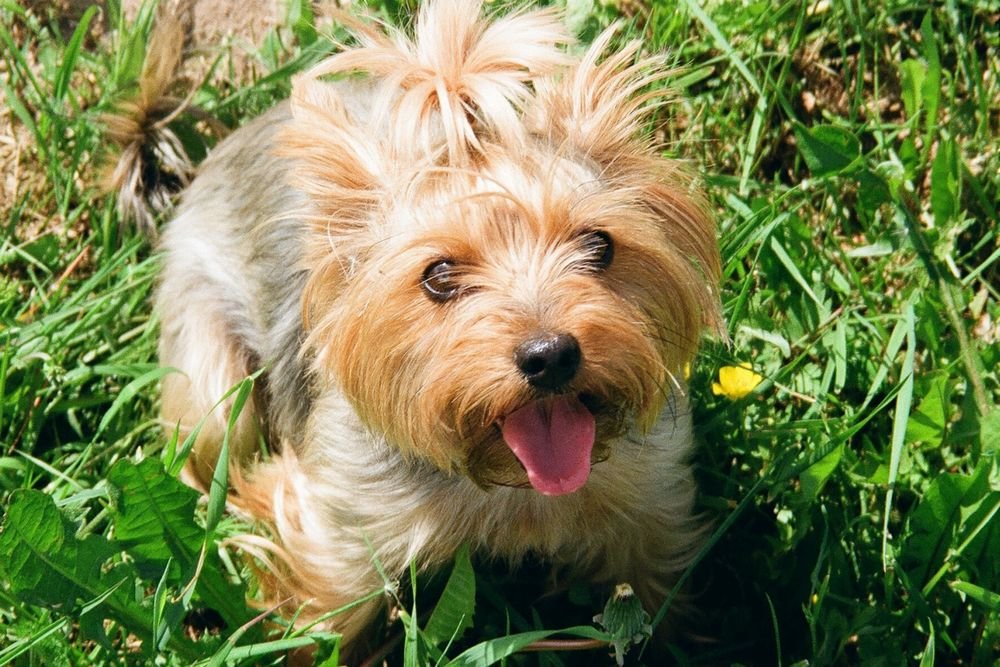 Because it is high in fiber, grass can actually help with a dog's digestion. However, if problems start to arise, it would be best if you stopped them from eating grass altogether.
Some such problems would be if your dog is constantly becoming sick from the grass, or if you notice a lack of appetite due to the amount of grass it is eating.
You don't want the grass to stop your dog from getting all the nutrients it needs from its actual dog food, because this could cause other health conditions. As the saying goes: everything in moderation.
Why Do Yorkies Eat Grass: Conclusion
Eating grass is not unusual. Many dogs do it, not just Yorkies. They do not gain much nutritional value from grass, but it is not harmful to them either. Assuming, of course, that there are no dangerous fertilizers, herbicides, or pesticides used on the grass.
Eating grass can become a problem, if it interferes with your Yorkie's regular diet. It can also indicate an underlying stomach or digestive issue. If your dog eats too much grass and nothing you do seems to help, it would be a good idea to see a vet.
A related issue is your dog eating its own poop. It is shocking behavior that leaves you asking: why does my yorkie eat his poop? That article has the answers.