Dog tear stains are ugly.
It makes sense to wonder if they go away or if they are here to stay forever.
You want your pup to look its best, after all!
But is there more to it than just looks?
Can tear stains lead to serious problems?
No, they do not cause serious issues. But they can be a symptom of a serious issue.
Removal of the tear stain is not as important as diagnosis of the cause of the stain.
Keep reading to learn some of the more serious issues that can cause tear stains, along with the answer to the question at hand.
Do Tear Stains On Dogs Go Away Or Are They Permanent?
Tear stains on dogs do not usually go away on their own, but they are not permanent either. They will go away with treatment. You can also take steps to prevent them.
You can buy products to treat tear stains at pet stores locally or online. The same goes for foods that help prevent tear stains from appearing in the first place.
If your dog is suffering from persistent tear stains, it is best to contact a vet. They will be able to determine what is causing your dog's eyes to tear so much and make sure it is nothing serious.
Before we get into some of the potential causes of excessive tearing and the best ways to remove the resulting stains, it would be helpful to understand what tear stains are exactly and why they appear.
Tear Stains Explained
Tear stains are dark brown or reddish stains that appear right underneath your dog's eyes. The obvious question is: why are the stains red when tears are clear?
This is due to a pigment known as porphyrin, which creates this particular color after tears build up around the eyes. The condition is easier to spot in lighter haired dogs, but that doesn't mean your darker furred dog can't also have this condition.
But this does not mean that tears are bad?
Definitely not. Tears are just as important for dogs as they are for us humans. They protect the surface of the eyes, especially from nasty irritants like dirt and dust. They also provide the eyes with nutrients and help help improve vision.
But excessive tearing is a problem. And in some dogs, even regular tearing can lead to stains or even stinky dog eyes. In a normal dog eye, you will notice that there is a small hole that helps drain the tears away from the eye to the throat.
Some dogs are different. Yorkie eyes watering, for example, is more common due to the abnormal way their eyelashes grow. Here are some common eye problems that can make a dog more likely to get tear stains.
Shallow Eye Sockets: when the eyes aren't big or deep enough, the tears spill out around the dog's eyes.
Inward Eyelids: if the eyelids roll in towards the eyeball, the puncta (are the drainage holes for tears) are blocked.
Hair Growth Around Eyes: hair can wick the tears from the eyes and onto the face because the hair grows too close to the dog's eyes.
Blocked Drainage Holes: dogs' drainage holes can be affected by a previous eye infection or eye damage that causes scar tissue, and when there are scars, it can partially (or completely) block the drainage passage for the tears.
However, even dogs that do not have any of these eye issues can get tear stain, if their eyes are tearing excessively. And that can indicate a more serious condition.
Conditions That Can Cause Tearing
If you start to notice tear stains around your dog's eyes, it's never a bad idea to take it straight to the vet to rule out any worrying conditions. You might prefer to treat them at home first, but if they keep reappearing, and especially if they get worse, go to a vet.
Once the vet has assessed the cause of the tear stains they can also advise on the best way to remove the stains. Most importantly, they can rule out any serious condition.
There are a large number of possible causes for tear stains. Sometimes they are perfectly natural and nothing to worry about, but there are also some serious conditions that result in tear stains.
That is why many will recommend going to the vet immediately upon noticing tear stains. The eyes are an important part of the body and it's always best not to self diagnose or ignore any issue that has arisen.
Let's take a look at a few of the more serious conditions that can cause tear stains under your Yorkshire terrier's eyes.
Glaucoma
One of the more serious causes of tear stains is glaucoma. This is when fluid builds up in the eye and damages the optic nerve. If left untreated, glaucoma can lead to blindness.
Conjunctivitis
Another, less serious, cause is conjunctivitis, which is the inflammation of the lining of the eye. If you also notice discharge around your dog's eye, along with the tear stains, this is a sure sign it could be this condition. Take your dog straight to the vet.
Eye Infection
Another possible cause is an eye infection, which is caused by bacteria finding its way into the eye. If your dog does have an eye infection, then it will need to take antibiotics to clear the infection up.
Irritants
Tear stains could result from irritant exposure from environmental factors, like smoke or dust.If this is the cause, removing the irritant (i.e. making sure your dog is no longer exposed to the smoke, dust, or whatever) should ensure no new tear stains form.
Other Causes
If your dog is a puppy, then the stains could be linked to teething. They could also result from ingrown eyelashes, which is a hereditary condition, or inverted eyelids. Both of these conditions will require surgery to fix the issue.
Treatment
Once your vet has diagnosed the correct condition and advised on the necessary treatment, you can begin to treat the tear stains.
It is a good idea to start by taking steps to make your dog feel more comfortable. Any type of treatment so close to the eyes will cause stress, so why not do what you can to minimize that?
One thing you can do is make sure your dog's fur is trimmed around the eyes, because longer fur can cause a larger amount of irritation.
Next, clean the area with a warm cloth. Avoid any products. Just running a cloth under the warm water tap should be enough. You can then use a special dog eye wash bought from a pet store to clean the eye.
For treatment of the stains, the product you use depends on the severity of the tear stains. If they are quite mild, just a damp cloth wiped over the stains might be enough to remove them.
If the stains are darker or larger, you may want to look at using special products. You could either use diluted baby shampoo, contact lens solution (on the stains only), a special dog eye wash, or tear stain wipes.
You best bet is a dedicated tear stain solution or wipe. You can buy these from your local pet store or online outlets. We have an entire article on finding the best tear stain removers.
We also have an article on how to remove dog tear stains naturally. There are a number of home remedies you can try, like using blueberries.
With any of these products, it may take a few weeks until you see any progress, but don't give up. Soon enough your dog's eyes will be back to normal.
Do Tear Stains Go Away: Related Questions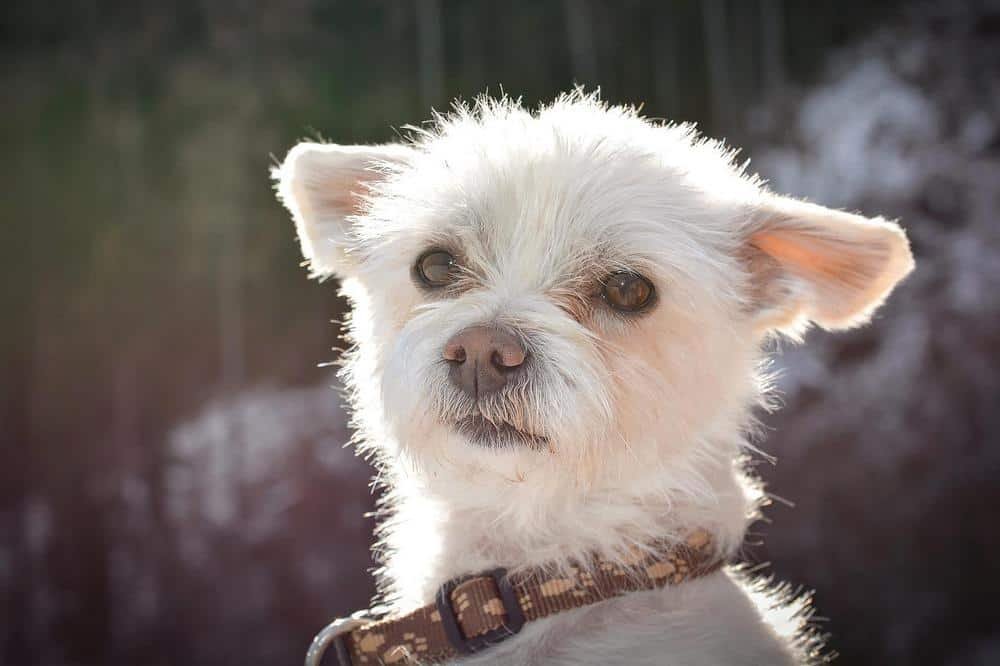 Below, we answer some common questions related to tear stains. Please ask ay additional questions you might have in the comments below.
Do Dogs Outgrow Tear Stains?
If your dog has been suffering from tear stains as a puppy, chances are it will outgrow them. Tear stains in puppies are usually a sign of teething. As the teething comes to an end, so should the stains.
You can still treat the stains and if they're still appearing after five months, then you may want to think about taking your puppy to the vet.
What Ingredient In Dog Food Causes Tear Stains?
There are a number of things in dog food that can cause tear stains. Additives, preservatives, red meat, and excessive carbs can all contribute to this condition. If your pet suffers from tear stains, then make sure to feed them a well balanced diet.
We have an article listing the best dog foods to prevent tear stains. It may take a few weeks to months before you see a change, but as long as you stay consistent, you will notice that they'll finally stop.
What Dog Breeds Get Tear Stains?
Breeds most likely to get tear stains are those with shorter noses. This is because of the shape of their head and how their eyes fit into their sockets. Shorter-nosed breeds include the likes of pugs and bulldogs.
Other breeds that are likely to develop tear stains include the Maltese, Shih Tzu, and Poodle. It can be a genetic condition, and you'll see the stains more in dogs that have lighter fur.
This means they can be especially prominent in Yorkie Poos and other crossbreeds. What is a Yorkie Poo? It is a cross between a Poodle and a Yorkie. They can have a wide variety of coat colors, but if they are lighter, they tend to get visible tear stains.
Are Dog Tear Stains Permanent: Conclusion
Dog tear stains are not permanent. You can remove them with a solution or wipes. Sometimes plain water on a washcloth will even do the trick.
If the tear stains keep reappearing, you will need to treat the underlying issue. Often it is nothing serious, in which case the stains stay away once you remove them.
But if they do not stay away, you'll want to take your dog to the vet. There are a number of issues that can cause tear stains and some of them can be quite serious. Better to get a professional diagnosis and treatment plan.