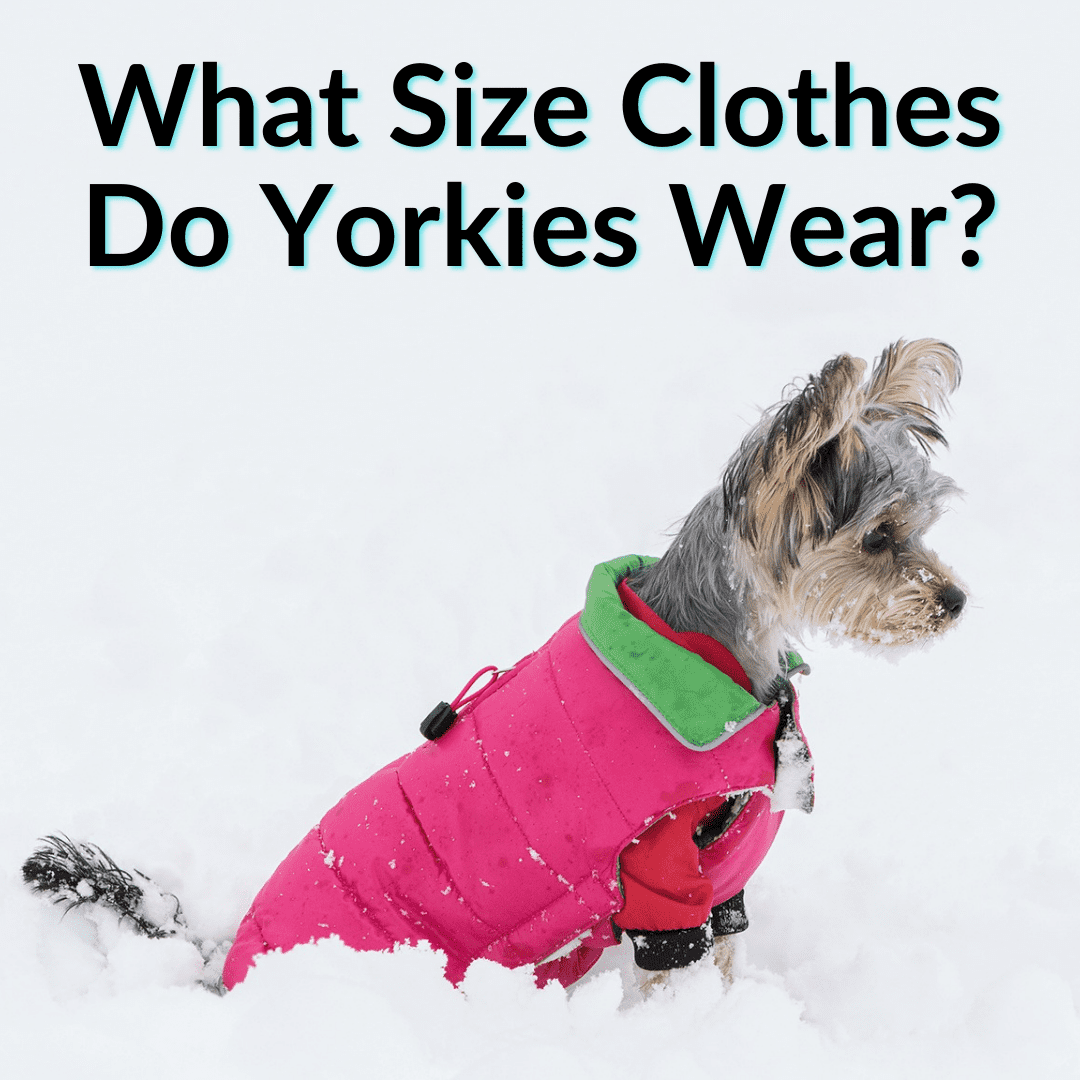 We've all bought clothes that didn't fit us.
Do you remember how that felt?
Probably not great.
Well, it's the same for your dog.
Yorkies need clothes in the winter, to survive the cold weather. Burt the wrong size clothing is going to be uncomfortable at best.
At worst, it can actually harm your pup.
Luckily, buying the right size clothing for your Yorkie is not any harder than doing the same for yourself.
Keep reading to learn everything you need to ensure you get nothing but perfectly sized clothes for your Yorkshire Terrier.
What Size Clothes Do Yorkies Wear?
Yorkies do not all have the same size and weight. This means that there isn't one perfect size of clothing for Yorkies. In general, they wear either extra small or small clothing.
In a lot of ways, Yorkies have the perfect size for wearing clothes. They fit into anything smaller and they look adorable when wearing just about anything. Plus, the smaller the clothes, the lower the price tag.
Dog Clothing Sizing Chart
Let's take a moment to go into the importance of clothing when it comes to your Yorkshire Terrier. Then we'll cover the best way to find the perfect size, without compromising the fit.
Why Put Clothes On Your Yorkie
The most important (and some will say only) reason to put on clothes on your dog is to keep it warm. This is especially true with a dog breed like the Yorkshire Terrier.
Yorkies don't have an undercoat that provides them enough warmth to get through the cold season. On top of that, they are tiny.
Their small small physique means they they lose body heat much faster than bigger dog breeds. Scientifically speaking, their body doesn't have excess fat, so Yorkies get cold easily.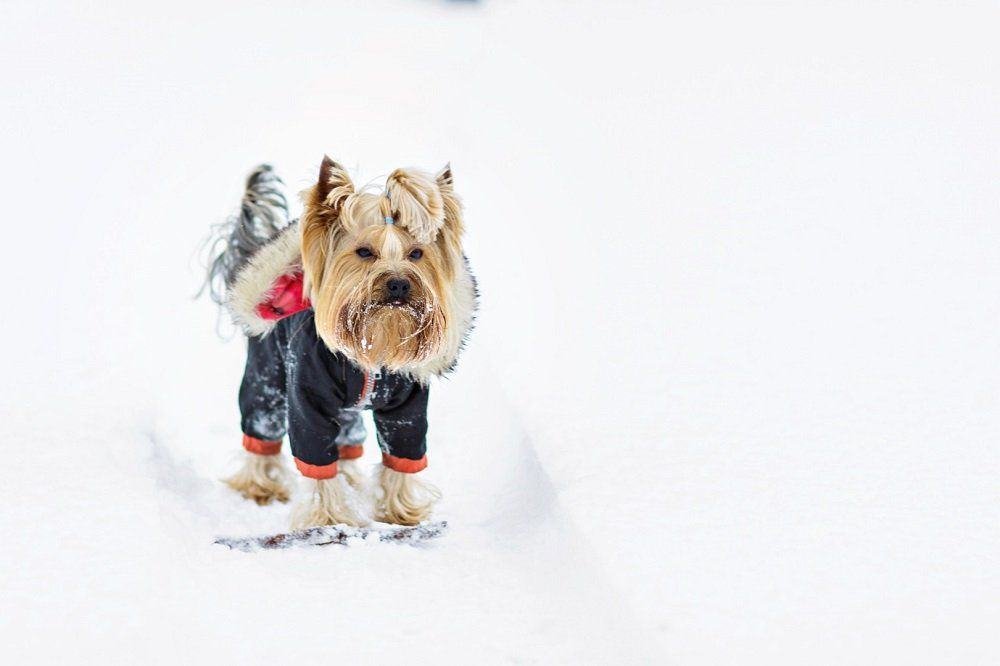 It is not uncommon to see a Yorkie shaking and shivering. It is true that there are a few reasons why your Yorkie might be shaking or shivering, the cold is the most common culprit.
But you can't just keep your pup locked up all winter, either. Dogs need time outside. And not just to use the bathroom. They need to get regular exercise and also have some kind of daily routine that involves a walk (or two) outside, even if its cold out there.
Considering these factors, it is more than just a great idea to put on some clothes on your Yorkie so that it can feel comfortable and warm. It is vital.
For your Yorkie to be happy, it needs to feel comfortable, of course. And wearing a warm sweater or coat can help it feel secure and comfortable on a cold day. It can also save your dog's life, if the temperature drops low enough.
But what about when it is warm out? Should you still put your Yorkie in an outfit on warm days?
If the outfit is airy and not hot, it is fine. But you do want to be sure your pet actually enjoys this. Read "Do Yorkies Like To Wear Clothes?" for more.
Finding The Perfect Size Clothes For Yorkies
Yorkies are a tiny breed of dog. That means it can sometimes be a bit of a challenge to find the perfect fit for them.
This is especially true when shopping online. You have to pay close attention to ensure you get the ideal size when shopping online. It is not uncommon to end up with clothing far larger than your Yorkie.
How big does a Yorkshire Terrier get? They are usually about 6 to 9 inches tall (measured to the ridge at the base of the neck, between the shoulder blades) and weigh up to 7 pounds. Teacup yorkies weigh around 3 pounds.
But obviously, each dog is slightly different. Before buying clothes, make sure to measure height, the chest, the neck, and the waist. Weight is also a factor when buying clothing for your dogs.
Not all items of clothing will have all of these different measurements. Make sure you get all of the measurements provided by the clothing manufacturer, so you can be as accurate as possible.
Common areas to measure on your dog, in addition to the height and length, include the circumference of the neck and the chest and the distance from the neck to the waist.
It is also a good idea to measure the armpit, if that size is provided by the clothing manufacturer. Sufficient space in the armpit allows for better freedom of movement. But too much space and you have fabric falling off.
Clothing Size For Yorkies: Conclusion
Yorkies need proper clothing for them to survive cold weather seasons. The look of the clothes is not as important as functionality and quality.
You may disagree and that is fine. Just don't neglect functionality and quality is favor of appearance. If you can't get all three, prioritize the function.
And then quality. Buying clothes made from good materials means they will fit better, be more comfortable, and last much longer.
It is always a good idea to buy an extra pair when you find a good piece of clothing that fits well. That way you always have a replacement in case the first one gets lost of damaged, or simply needs to be washed.